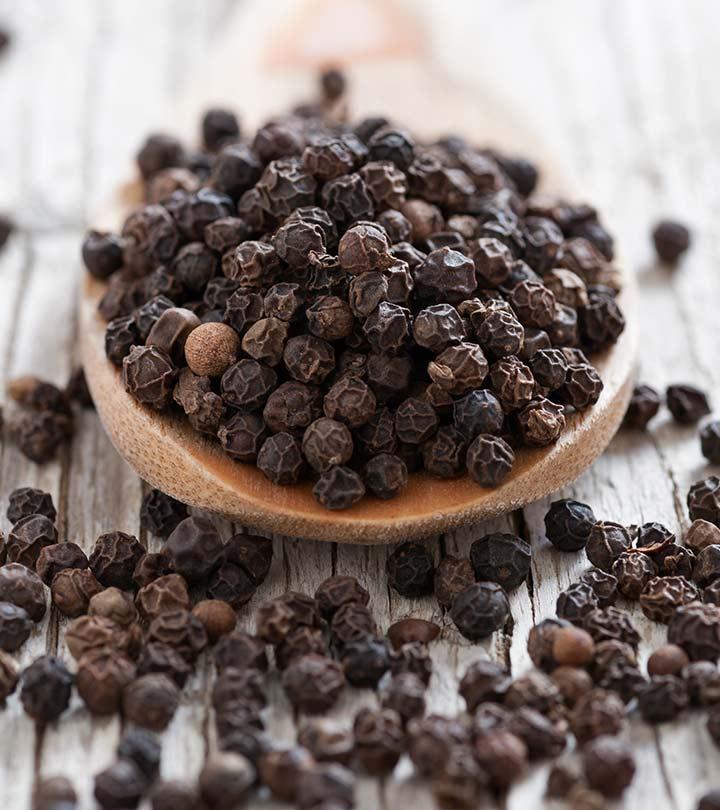 Check out any dining table and chances are that you'll find black pepper there. Apart from salt, black pepper or 'kali mirch' in Hindi is the most commonly used seasoning around the world, especially in America. Also known as the king of spices, black pepper is grown in countries like India, Brazil and Sri Lanka.
Black pepper is a condiment, which is made from a fruit known as peppercorn. Once peppercorn attain their full size, they are picked and allowed to dry under the sunlight. They are left until they become shrivel and turn black. The enzymes present in berries turn the skin of peppercorn black in the drying process. What's more, black pepper is peppered with nutrients and has numerous health benefits to offer. Its antioxidant, anti-inflammatory, and anti-bacterial properties make it the go-to spice when it comes to health.
Health Benefits Of Black Pepper:
Some common health benefits of black pepper are:
Helps in digestion
Prevents cancer
Helps to lose weight
Provides clear skin
Provides relief from cough and cold
Act as a natural antidepressant
[ Read: Black Pepper Health Benefits ]
Top 10 Black Pepper Side Effects:
These are but a few of the health benefits of black pepper. But as they say too much of a good thing can be bad too! So is the case with black pepper. Till you control the amount of black pepper intake, all is good. But black pepper can cause some serious and some not so serious side effects, if not taken in moderate quantity. Here's a list of all that can go wrong with too much black pepper:
1. Creates Burning Sensation In Stomach:
Well, we all know that black pepper is 'hot'. Common sense tells us that we should limit the use of black pepper in our dishes. But, sometimes common sense takes a back seat! In such a case, the overuse of black pepper can lead to severe burning in the stomach. Don't worry, the burning will pass, it's just temporary. Just be careful next time!
2. Can Cause Death:
Now, this is one of those rarest of rare cases. But if pepper is consumed directly, it can get into the lungs and cause death, especially in children. So it is advised to eat black pepper by mixing it with your food.
3. Creates Burning Sensation In Eyes:
Remember black pepper is hot! So avoid applying black pepper directly on your skin.or else accidentally if it gets into your eyes, it may cause burning and redness, both on your skin and eyes.
[ Read: Health Benefits of Cayenne Pepper ]
4. Contraindication With Certain Drugs:
Patients taking cyclosporine A, cholinergic, digoxin, and cytochrome P450 should avoid consuming black pepper.
5. Gastrointestinal Disorders:
Black pepper may upset the stomach or cause gastrointestinal problems. So, patients suffering from gastrointestinal disorders should avoid taking black pepper.
6. May Lead To Respiratory Problems:
One must not inhale black pepper as it may lead to respiratory problems like respiratory irritation, asthma, etc.
7. May Cause Irritation:
In some rare cases, the intake of black pepper can lead to skin irritation with symptoms like itching, swelling, and redness in skin.
8. Difficulties During Pregnancy And Breastfeeding:
If you are pregnant, your body is already sensitive to spices. So try and stay off black pepper. If you are craving the flavor, add some to your favorite dish, but in minimal quantities. The hot flavor and taste of black pepper can be transferred into breast milk. So, unless you want to give your infant a crash course in Indian spices, stay away from black pepper if you are breastfeeding.
9. Increases Skin Dryness:
Black pepper should not be consumed in large quantities as it can dry the skin. If you have dry skin, too much black pepper is certainly a no-no!
[ Read: Red Bell Pepper Health Benefits ]
10. Avoid During Summers:
Summers are hot, don't add to it! Black pepper can increase the body heat and can even lead to bleeding noses. So, say no to black peppers during the hot summer months.
If you weigh in the pros and cons of consuming black pepper, the pros will win hands down! The only way black pepper can harm you is if you consume too much of it,which is an unlikely scenario. So, enjoy your favorite spice in moderation!
Did you know about these side effects of black pepper? Do you know any other black pepper side effects? Share with us in the comments section below.
Recommended Articles: